The doldrums of summer have truly set in. It is way too hot and sticky to do anything serious or productive. Even though it is raining lightly today the humidity is staggering and is killing any desire I have to catch up on my various projects around the house. So what's a girl to do? Apparently spend all her waking hours on the internet! Since I got into the Blythe hobby I have been spending a lot of time cruising various sites and learning all about my favorite girls. There are so many beautiful dolls to obsess over! And so many customisers and so many shoes and dresses....and the list goes on. I have managed to collect quite a few of my "must-have" dolls so I am kind of in a quandary right now...I want to add to my little plastic family but there is no one girl that is rocking my world enough for me to haul out the credit card. To add to the blahs there have been noticeably fewer new release dolls this year and, out of them, only a couple have really attracted my eye. There also seems to be a new trend of desirable dolls being virtually unattainable for collectors outside of Asia..but thats another story.
Fortunately it appears a new light is on the horizon! Junie Moon has announced two new girls coming in September..one regular release and on special...that appear to be right up my alley!
First up in Pickle Winkle:
She looks really promising with her cute outfit and I'm really intrigued by the two-tone hair. I got Eldest a Disco Boogie for xmas last year and I just love her glorious blond streaks. Pickle looks like she is going to be a regular release so she shouldn't be too hard to get.
On the other hand we have the newly announced Red Delicious: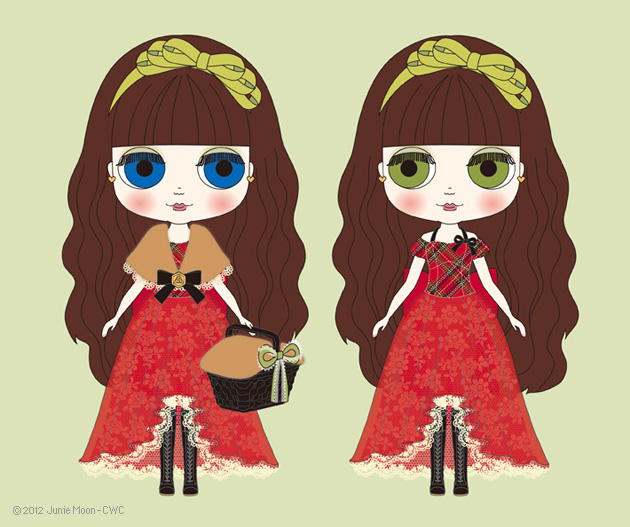 Simply stunning! I love everything about her. Unfortunately for me she is this year's anniversary doll so not only will she be extremely limited quantity but she will also be fairly expensive. But we wants the precious!
So now I am left waiting and slobbering until September when both these girls come out. I can't wait to see the real life dolls..hopefully they are even better than the drawings! Now I just have to come up with the funds to pay for them....:)